On our Spring Break, I failed to pack not only Katie's ski socks and goggles, I also failed to pack my hair dryer.
The younger me would have completely freaked out.  Not able to fix my hair with my hair dryer?  This meant that no matter how good my hair actually looked as I started my day, every reflection in the mirror would reveal less than perfect hair. It was surely all the dryer's fault.  The hotel's dryer may be perfectly functional, but there is NO WAY that dryer-in-the-wall is capable of managing my mane.  It'll be too hot or too cold or will have some flaw that will leave my hair in a less than perfect state; only my own hair dryer can stand up to Evil Hair.
Now, you have to understand, I have weird hair.  It was Shirley Temple cute blond curls until I was about five, and then it was like someone left me in the dryer too long and POOF – we went from Shirley Temple curls to something incredibly thick, coarse AND curly – which is not a good combination.  I know it's said God don't make junk, but I do think the angels on the people assembly line in 1968 thought they'd have a good laugh.   On a bad day the hair on the top of my head is less manageable than the hair elsewhere on my body, if you get what I mean.  So at five years old, chop went the hair, never to return to anything that could be pulled into a ponytail (much to my dismay).
Washing my hair as a child was an ordeal.  Neighbors three houses over would hear me as I had a major meltdown while my mother attempted to wash my hair in the kitchen sink (why did my mother lie me down on the counter and dangle my head in the sink to wash my hair?  I have no idea.)  A mom's friend used thinning shears on my hair when I was five or six – and even then I had hair to spare, it was  so thick.  My grade school hairstyle could best be described as a big, unwieldy bullet/helmet.  Thing.
Then … adolescence.  The time when looks are EVERYTHING.  If you are good at math, you have figured out that my adolescence came about during the same time that this look was all the rage: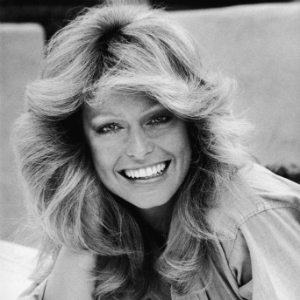 This, however, is me, circa 1981: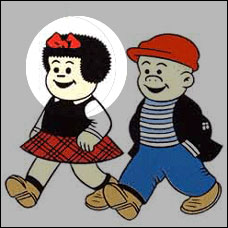 Adding to my preteen angst, little old ladies constantly told me how lucky I was to have curly hair.  Exactly what every twelve year old wants to hear, that a woman whose hair is no natural shade of blue, and permed to the point of near nothingness, thinks my hair is beautiful.
I threw many a "hair tizzy" (as they are known in Kramer lexicon) attempting to wrangle Evil Hair from its natural Nancy 'fro state into luxe, Farrah-like waves.  But Evil Hair always won.  Even on days when I confidently left the house, every hair exactly where I wanted it to be and AquaNetted into submission, the Omaha humidity joined forces with Evil Hair the moment I walked out the door, making my beautiful hair into its frizzy and compacted Nancy 'fro again.  Back to being in a funk.
And God bless my mother, for trying everything and anything to get Evil Hair into something other than its normal state.  At one point, she conditioned Evil Hair with Hellman's mayonnaise.  Which, in case you were wondering –  did not work.   And, I'm pretty sure that smelling like a bad egg salad sandwich, on top of my awesome acne and the Nancy 'fro, did wonders for my social life.
So now I'm older and wiser and I don't give a second thought to Evil Hair on most days.  We went to an outdoor event the other night, when it was incredibly humid,  and while Evil Hair made its appearance I didn't really think twice about it (the big honking zit on my cheek, however, was a different story).
It's funny – I think if you ask 100 women of any age about their hair, some 99 of them will say they dislike theirs – too straight, too curly, too fine, too thick, too something.  If you do find a woman who likes her hair, chances are she's spending a small fortune in both money and time getting it cut, colored, curled, straightened, and teased (not to mention the cash spent on "products").  Even the "older and wiser and don't care about my hair" me gets Evil Hair colored every month, in attempt to cover the grays that are quickly taking over, mostly in the vain hopes that I will never again be referred to as Katie's grandmother.  (Side note:  those little grey hairs are not just Evil, but Malicious.  They do their own weird corkscrew thing on my head so they stand out above the hair that has yet to go grey.  REALLY?  You little Malicious dudes couldn't find one other hair on my head to buddy up with?!?)
I still have days when my hair is evil, but now I worry about other things.  The cars zipping by too fast on our street.  The mosquitos that might or might not have west nile virus.  Bullies.  The contents of Katie's lunch – both whether I have anything to put in her lunch box as I pack it at 10 pm at night, and does a ketchup sandwich meet her vegetable requirements for the day?
Too bad I can't take out all of my worries with my hair dryer.